October 27, 2019
Celebrating Dr. Hilleman's 100th Birthday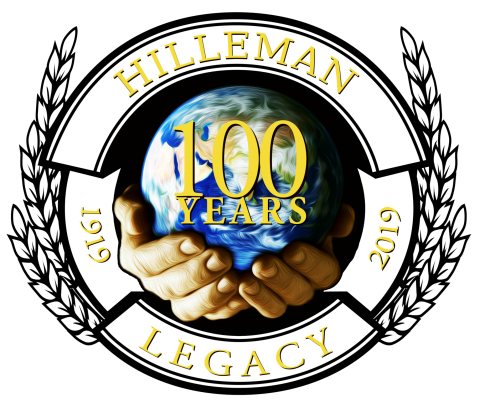 2019 marked the 100th anniversary of Maurice Hilleman's birth. To celebrate, the Vaccine Makers Project of the Vaccine Education Center at Children's Hospital of Philadelphia held special events to commemorate Dr. Hilleman's remarkable legacy, including a student essay contest, scientific symposium, and free viewing of the award-winning documentary, HILLEMAN: A Perilous Quest to Save the World's Children.
The 2019 Maurice R. Hilleman Essay Contest
In the spring of 2019, students in grades 6 to 12 were invited to learn about Dr. Hilleman's life and accomplishments and submit a 500-600 word essay responding to the question, "How would the world be different if Dr. Hilleman had not lived the life he did?" Three winners were selected from almost 150 submissions across 21 different states.
The winners, Alexis Casner from Minnesota, Alexa Heffel from Montana, and Grace Pepperman from Tennessee, each noted the impact of Dr. Hilleman's work in their essays, as well as their personal observations related to his legacy.  Casner pointed out that a person who saves a child from being hit by a car would be called a hero by today's standards, but wondered, "If you are a hero for saving one life, then why has the man credited with saving millions of lives received no recognition?"
Heffel shared a personal story about her sister, whose treatment for a lifelong condition, prevents her from being vaccinated. "…she relies heavily upon the herd immunity afforded to her by the mostly vaccinated community." In conclusion, she wrote, "If it were not for Hilleman, the world would certainly look a lot different, no matter the angle you analyze it from. But my angle is personal. I love my sister, and Hilleman's incredible mind may have saved her life many times over." Pepperman wrote of a conversation about her grandmother's experience as a child in the 1950s, before many vaccines of today were available, ultimately concluding, "My normal is very different from that of my grandmother's … Thank you, Dr. Hilleman. I would not want to live in the world where you did not live the life you did."
The three students won expense-paid trips to Philadelphia for themselves and a parent and a cash prize, during which they met with Children's Hospital of Philadelphia scientists, toured both the research labs and the hospital, and enjoyed a private dinner with the Hilleman film documentary team and some of Dr. Hilleman's family members and friends.
The students presented their winning essays and received their cash prizes at a special "Memories of Maurice" reception held at the Children's Hospital of Philadelphia's Roberts Center for Pediatric Research on September 19, 2019. In addition to the student essays, the evening included remarks from Dr. Hilleman's wife, Lorraine, and a presentation by Dr. Paul Offit, Director of the Vaccine Education Center and Dr. Hilleman's biographer. The reception also featured the world premiere of the short film Maurice Hilleman: The Man behind the Science, which highlights personal remembrances of Dr. Hilleman by family and friends.
Learn more about the contest and read the winning essays here.
Learn more about Dr. Hilleman's life and work, and view the new short film here.
Science Communication Symposium
On September 20, 2019, the Vaccine Education Center at Children's Hospital of Philadelphia (VEC) hosted a half-day symposium, Communicating Science and Health in Today's Challenging Environment. The symposium provided an opportunity to explore the unique challenges faced by professionals working to deliver accurate information about science and health to the public in the postmodern era.
The program included a keynote address by Charlotte Sutton, Health and Science Editor, Philadelphia Inquirer; remarks by Paul A. Offit, M.D., Director of the VEC and author of Bad Advice: Or Why Celebrities, Politicians, and Activists Aren't Your Best Source of Health Information; and a screening of the award-winning documentary film, HILLEMAN: A Perilous Quest to Save the World's Children introduced by the film's director, Donald Rayne Mitchell.
Free Film Day
On the date of Dr. Hilleman's 100th birthday, August 30, 2019, viewers were able to watch the complete version of HILLEMAN-A Perilous Quest to Save the World's Children in English, or with Spanish, Portuguese or Romanian subtitling.