October 21, 2020
Integrity Matters: Celebrating the Winners of the 2020 Essay Contest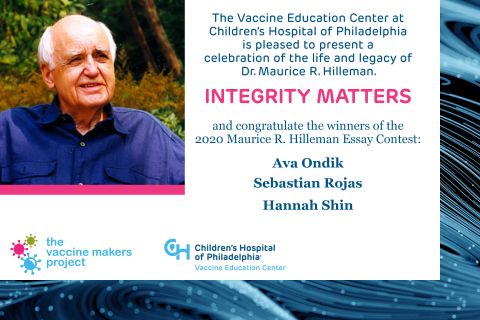 In the spring of 2020, students in grades 6 to 12 were invited to learn about Dr. Hilleman's life and accomplishments and submit a 500-600 word essay responding to the question, "How was Dr. Hilleman's integrity important to his success, and how is integrity important to you?"  Three winners, Ava Ondik, Sebastian Rojas, and Hannah Shin, were selected from almost 90 submissions across 19 different states.
In their winning essays, each student reflected on the subject of integrity:
 

Ava Ondik noted that Dr. Hilleman's integrity contributed to his success, "Because his integrity was not just personal – it was global. Dr. Hilleman cared so much about the world, about the people in it, about the children who would become the future."

Hannah Shin wrote of Dr. Hilleman displaying integrity as he worked to help others: "The drive behind his unwavering work ethic was his desire to help suffering children, and his innovations were platforms of philanthropy … Dr. Hilleman set an example as an outstanding change maker for generations to come, and he demonstrated integrity each step of the way." 

Sebastian Rojas observed, "Despite the success of his vaccinations and incredible contributions to science, a disproportionately small number of people know Dr. Hilleman's name…This fact is what punctuates his integrity. He did the right thing and didn't care who was watching. He let the vaccines be the hero. This is the legacy of Maurice Hilleman, the man who put the world first." 
The three winners were celebrated during a virtual event, "Integrity Matters," held on October 16, 2020. The program featured remarks from Dr. Hilleman's wife, Lorraine, and Donald R. Mitchell, the director of HILLEMAN: A Perilous Quest to Save the World's Children. Dr. Paul Offit, Director of the Vaccine Education Center, discussed "Integrity in the Time of COVID-19 Vaccine Development," and served as the host for the event. Each student also presented their winning essay during the event and had an opportunity to speak with Mrs. Hilleman and the VEC and Vaccine Makers Project teams before the celebratory event.
The students' teachers, named in their winning entries, received a signed copy of Pandora's Lab: Seven Stories of Science Gone Wrong, written by Paul A. Offit, MD., Director of the Vaccine Education Center.