Marion Gruber:
Preparing for infectious disease threats from across the globe
"If we face an immediate threat and we are challenged and perhaps our life is in danger, we react. We try to protect not only ourselves but our families, our children, but if that threat passes, then I think we tend to forget. If you are a public health official, you have to think a little bit differently. You have to make sure that you are prepared in terms of looking at the next outbreak."
Dr. Marion Gruber is a world-renowned expert in vaccine development, regulation, and licensure with over 30 years of experience in the field. She worked at the U.S. Food and Drug Administration (FDA) for many years, serving as the director of the Office of Vaccines Research & Review (OVRR) from 2012-2021. During her tenure, Dr. Gruber oversaw the review and approval of numerous vaccines, including the first U.S.-licensed Ebola vaccine and the first vaccines against COVID-19. Dr. Gruber now serves as Vice President of Public Health and Regulatory Science at the International AIDS Vaccine Initiative (IAVI). IAVI is a nonprofit scientific research organization focused on developing vaccines and therapies for HIV and other infectious diseases and making those tools available to global populations through accessible and affordable programs and solutions.  
Marion Gruber: Preparedness Is Prevention 
FDA regulators are tasked with keeping people safe by ensuring stringent standards in the making of drugs, biological products and even some foods. To do this, they evaluate a complex set of data, including production protocols, results of animal and laboratory studies (often referred to a "preclinical" studies or trials), and data from clinical trials in people. Normally, the development of a biological product involves a series of steps that take months or even years for a manufacturer to complete.
But what happens if a grave infectious disease threat emerges and no approved vaccine or treatments are available? Dr. Marion Gruber and her fellow FDA regulators faced this challenge in 2009 with the emergence of a new strain of influenza. The H1N1 influenza, also known as swine flu, led the FDA team to realize that in order to save lives, they needed to adjust their regulatory approach and think more creatively about how to uphold the rigorous regulatory standards while also making a vaccine available as quickly as possible.
This new way of thinking paved the way for Dr. Gruber and her colleagues to face a variety of emerging infectious disease threats in the years that followed the 2009 swine flu pandemic. Between 2014 and 2016, the Zaire strain of Ebola virus ravaged West Africa. In 2017, zika virus spread throughout the Americas. In 2020, COVID-19 swept the globe. And in 2022, monkeypox and a Sudan strain of Ebola threatened people in several nations. Dr. Gruber and her FDA colleagues worked tirelessly and collaboratively with other government agencies, research organizations, and vaccine manufacturers to develop, authorize and deploy safe and effective emergency vaccines in these situations. Although they were often successful, one aspect of their work was becoming increasingly clear: flexibility and creativity when reacting to an outbreak was not enough — they also had to be prepared. That meant finishing the work after the emergency subsided as well as surveilling for early identification of potential new threats.
Watch the short film, Marion Gruber: Preparedness Is Prevention, to learn more about Dr. Gruber and find out how she and others worked to provide vaccines that saved millions of lives around the world and why preparing for the next infectious disease threat is critical.
Marion Gruber: Biography
Early Life
Marion Gruber was born in the northern part of Germany, near the port city of Hamburg. Her parents and grandparents were originally from East Prussia, a region along the southeastern Baltic Coast. During the East Prussian Offensive in 1945, Marion's family was forced to leave their homes and become refugees in what was later called West Germany.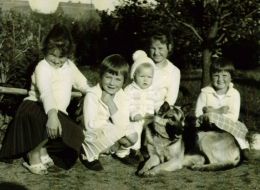 This formative experience shaped Dr. Gruber's parents, who embodied the core values of enduring difficulties, working hard, and facing challenges head-on. Although Dr. Gruber's parents did not have the opportunity to get an academic education, her father became a successful baker, and both parents recognized the importance of schooling, pressing young Marion and her siblings to apply themselves academically. Despite a somewhat strict upbringing with many rules and expectations, the three siblings enjoyed lots of outdoor play, soccer, and roughhousing with the family's beloved German Shepherd. "I had a very happy childhood," remembers Dr. Gruber. "I had the love and the support of my parents and my grandparents. We had a big family all huddled together in this little town, and I have very fond memories of that time."
Education and Training
Dr. Gruber first became interested in microbiology in high school when she had a female teacher who had recently graduated from university and took pleasure in introducing her students to the fields of bacteriology and virology. The classes sparked Marion's interest, leading to her decision to study biology in college, even if she remained unsure of how she would build a career in the field. Upon graduation, Marion went to Ulm University in the south of Germany, where she received a master's degree (M.S.) in biology. She then attended the Christian-Albrecht University of Kiel where she completed a Ph.D. in immunology.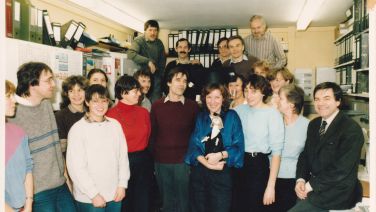 In 1986, Dr. Gruber was offered an opportunity to complete postdoctoral research in the United States. Despite never having traveled to the U.S. before, Dr. Gruber accepted the position. Taking just two suitcases of belongings, Marion relocated to Oklahoma to work in the lab of Shu Man Fu at the Oklahoma Medical Research Foundation (OMRF). Dr. Gruber describes Fu as a "tough cookie but a very wonderful mentor and a good teacher," who invited Dr. Gruber to live with his family and loaned her a car until she got settled into a place of her own. In Dr. Fu's lab, Marion honed her skills and understanding of immunology by studying how B cells interact with other immune system cells. It was during her time in Oklahoma that Dr. Gruber met her husband. They married in 1988. 
Career
While working at OMRF, Dr. Gruber attended a meeting in Washington, DC. She was attracted to the city where, coincidentally, her husband had been born and raised. The young couple decided they wanted to live on the East Coast, and soon Dr. Gruber applied for and received a second postdoctoral position; this time, she would learn in the FDA's Center for Biologics Evaluation and Research (CBER), where she began in 1989.
Although postdoctoral researchers did not participate in regulatory work due to FDA protocols, Dr. Gruber had many colleagues who worked as regulators. Seeing what they did, she became interested in pursuing this career path. As her postdoctoral position was winding down, her mentor, Theresa Gerrard, PhD, encouraged her to apply for a full-time regulatory position. In 1992, she became a senior staff fellow for the Office of Therapeutic Review and Research, and a few years later, she moved to the Office of Vaccines Research & Review (OVRR). As a reviewer at OVRR, Dr. Gruber became familiar with the laws and regulations that govern biologic products development and increased her knowledge of toxicology.
During this time, Marion also became interested in maternal immunization. Recognizing this interest, Dr. Gruber's supervisor, Dr. Karen Goldenthal, asked her to develop a guidance document describing the approach to preclinical reproductive toxicology studies that would be required before a vaccine could be tested in pregnant women. Dr. Gruber appreciated this next phase of her career as it was critically important to her to ensure that this vulnerable population could have access to life-saving immunizations.
After a decade working as a reviewer in OVRR, Dr. Gruber was promoted to Associate Director for Regulatory Policy in 2005. A few years later, she became OVRR's Deputy Director, working with then-Director, Dr. Norman Baylor. "He was a wonderful boss to me," Dr. Gruber noted when asked about working under Dr. Baylor. "He taught me so much about managing and being calm and collected, even when things get very tense."
When Dr. Baylor decided to step down as the director of OVRR in 2011, he and others encouraged Dr. Gruber to apply for the position. She was appointed in 2012, selecting Dr. Phil Krause as her deputy. Dr. Gruber recalls, "He wasn't shy to express a very opposite opinion, and he would not let it go until there was a very convincing argument, and I'm exactly like that, too. How can you arrive at a good decision if everybody's just nodding their head? You need people who express opposing opinions. It was the best decision I ever made." Dr. Gruber added, "There were some other people I really highly valued in the office and took the approach that it's a team, and you know everyone's strengths and weaknesses and you rely on the strengths."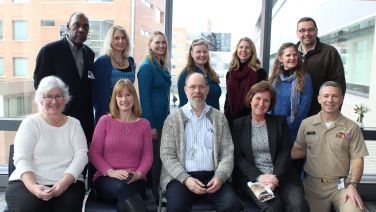 As Director, Dr. Gruber oversaw all of the department's plans and programs, including the development, regulation, and licensing of vaccines. She and her team also continued their work developing strategies to prepare for emerging infectious diseases, partnering with other national regulatory authorities and global organizations including the World Health Organization (WHO) and the Coalition for Epidemic Preparedness Innovations (CEPI). During her tenure, several infectious disease-related threats and events occurred, including the Ebola crisis and the COVID-19 pandemic. Watch the film, "Marion Gruber: Preparedness Is Prevention," to learn about the challenges and triumphs in vaccine development during these emergencies.
Dr. Gruber's work is firmly rooted in public health and public service, but it is also deeply personal. As she reflected on her work at the FDA, she noted, "I learned the importance of really working in the sector and improving people's lives by making safe and effective vaccines and other biological products available. It is very rewarding. It's not only lives in general, but I'm looking at improving lives of my own family members. I was very happy when my daughters received the human papillomavirus vaccine, Gardasil. Or when my husband just got his second Shingrix shot or when my father got the pneumococcal conjugate vaccine. These are all vaccines that I had a part in making available and accessible to people. And so, it's people in my own family, people in my own community. We have a lot of discussions with my neighbors about the importance of vaccines and then also, of course, people in this country and globally. I think it's important work, and I feel grateful that I was given the chance to contribute."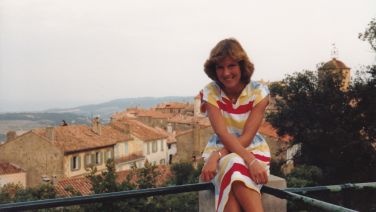 Dr. Gruber remembers her upbringing, education, and getting started in her career.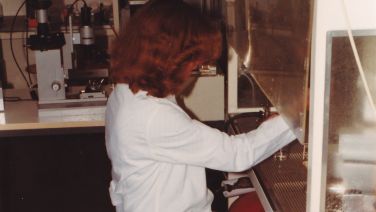 Dr. Gruber talks about including pregnant women in vaccine trials and how attitudes about maternal vaccination changed over time.